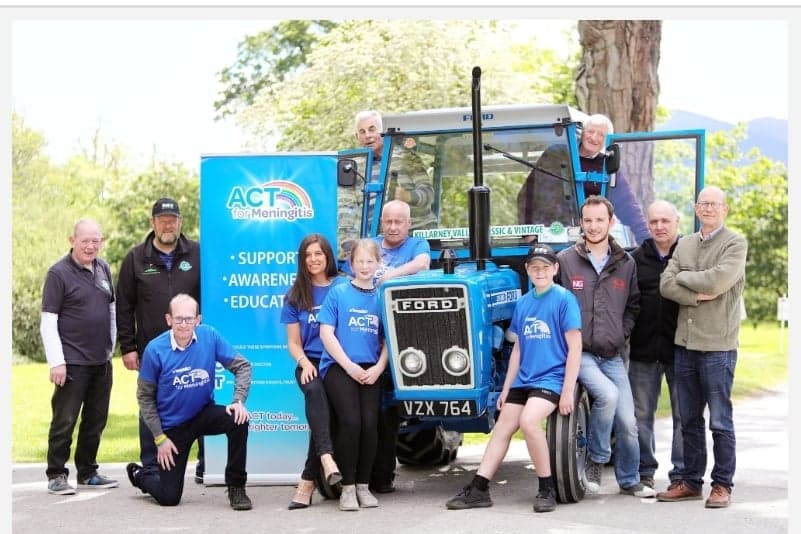 Killarney Valley Classic and Vintage have kindly donated a tractor to ACT for Meningitis.
Raffle tickets are €10 each with a multitude of prizes to be won; the 1st prize being the tractor.
The 2nd place prize: a stay in the beautiful 5 stars Killarney Park Hotel with bed and breakfast and an evening meal.
The third prize is a €400 voucher from Killarney oils.
And finally, the 4th prize: a 2-night pitch at Beech Grove Caravan and Camping Park, Killarney. All funds donated through this link will contribute to the services needed for the families affected by meningitis all over Ireland.
ACT for Meningitis is most grateful to The Killarney Classic and Vintage for kindly donating the tractor to raise much-needed funds to continue our free support and awareness services nationwide. 
"Another huge project – which includes raffling a vintage tractor with a deep Killarney connection – is in the making by one local group who plan to raise funds two charities.
 Killarney Valley Classic and Vintage unveiled another classic vintage – a 1979 Model Ford 2600 Tractor, at the Deenach Lodge, Killarney National Park.
The tractor, which belonged to the Killarney Great Southern Hotel and was in use on the farm from 1979 to 2007, was rolled into view with Pat O'Brien on bagpipes leading the procession. The project was then launched by Cathaoirleach of Killarney Municipal District, Cllr John Sheahan.
It's the third year the group have raised funds for good causes with this year's beneficiaries chosen as ATC for Meningitis and Killarney Micro Track Project.
"We are delighted to be supporting two very worthy causes," Tom Leslie, PRO of Killarney Valley Classic and Vintage, said.
"This is our third year. The first year was the MF135 which was a huge success both from a restoration point of view and the charities that benefitted. Last year's project was an even bigger challenge where there was a complete rebuild of a Land Rover 90. To date there's over €100,000 raised between the two projects. We're even more excited about this one as it has a fabulous history with the Great Southern Hotel for 28 years. And the timing couldn't be better for the micro track as work is about to commence and will be completed by mid-September on the grounds of St Brendan's College, Killarney."
Speaking about the tractor, which will be raffled this coming November, he said it's in very good condition. "It had a fantastic life at the Great Southern with only 1700 hours on the clock. We just had to do some tidying up, painting, new tyres and conditioning, it's a real collector's item, it really is a  beautiful machine."
The club also announced three more prizes as part of the fundraising raffle; second prize: Bed & Breakfast and evening meal at the five-star Killarney Park Hotel, third prize: €400 voucher from Killarney Oils, and fourth prize: a two night pitch at Beech Grove Caravan and Camping Park, Killarney.
"The public have always been very supportive of all our projects in the past and we've no doubt that they'll dig deep once again and support us."
Tickets are €10 each and the draw will take place on November 16 next." -by Killarney Advertiser | May 25, 2019 | News |
The tickets may be purchased from killarneyvintage.com or  here.